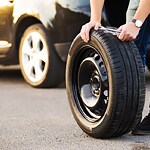 You have a spare tire in the back of your vehicle, which is the most important part. But do you know what kind of spare tire you have? If you didn't even know that there was more than one kind of spare tire, you'll be even more surprised to know that there are several. At Flynn BMW in Pittsfield, MA, we would like to tell you about the compact temporary spare tire and the full-size spare tire.
The compact temporary spare tire is the same kind that's often referred to as a doughnut tire. It's smaller, so if fits easily, but you have to be careful about how fast you drive on it. Plus, you need to get to a mechanic to get a regular tire on it as soon as you can.
The full-size spare tire is another option, but this kind is perfect when you want to be able to drive like you always do. You don't even have to find a mechanic right away because it's the same kind you already have on your wheels.