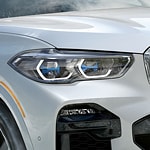 Being a sport-activity vehicle isn't necessarily easy, but the BMW X5 makes it look easy. This vehicle is well equipped to handle all of your driving needs. BMW has built multiple engine types to better match your performance urge, but there's much more.
The BMW X5 has an interior that's quite majestic. The interior of this SAV hosts soft-touch materials that will provide pure comfort. Its Panoramic moonroof will give you and your passengers an exceptional view. This makes the interior cabin feel a lot bigger. Up to five individuals can seat very comfortably in the cabin. When it comes to music, you'll thoroughly love the sound that comes from the Bowers/Wilkins sound system. Every base is being covered here. The BMW X5 even offers dual touchscreen displays that come in 12.3 inches.
Need more details? You should definitely speak with one of our associates as soon as possible.