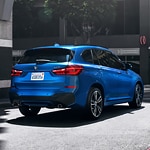 You will find that the BMW X1 is a popular subcompact SAV that has a lot of features to brag about. Not only does this vehicle put you in the lap of luxury, but many features simply make it fun to get out on the road. Take a look at the new BMW X1 at Flynn BMW in Pittsfield.
The head-up display is an innovative idea that BMW has put into the X1. Drivers can now see a display right on their windshield that provides them with current vehicle data, and it can be customized to meet the driver's preference.
There is also the Lane Departure Warning system that will help keep you safe on the roads of Pittsfield. This system is like having a navigator right there with you looking out for your best interests. You will be notified if you start to move out of your lane improperly. Test drive the BMW X1 when you visit Flynn BMW.