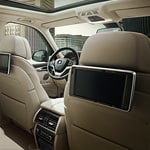 Are you living a good life? It could get even better inside a BMW X5. The following features make this luxury midsize Sports Activity Vehicle (SAV) a worthy choice.
Few things about driving are more annoying than backseat fights. With this family-friendly SAV, you can have a little peace as you move through Pittsfield streets. The BMW X5 has power outlets in the trunk, rear console, and front storage compartment so that several devices can charge simultaneously.
Numerous power outlets and other luxury-class amenities are lovely, but they mean nothing if you don't make it to your destination safely. Each BMW X5 is equipped with a Fatigue and Focus Alert system that lets you know when it's time to take a break or switch drivers. Discover how much there is to love about the BMW X5 at a Flynn BMW test drive.