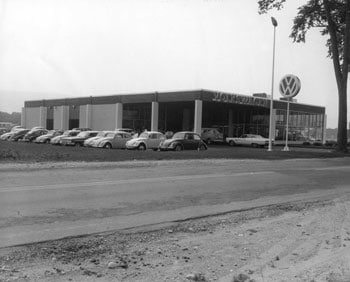 October of 1964 -  Tom Flynn and his son Tom Flynn Jr started Flynn Volkswagen with 3 Service bays and a one car Showroom.

1970 - The Flynn's moved their growing business across the street to a new "State of the Art" Facility with 8 Service bays, a full Paint/Body shop and a 5 car Showroom.

1971 - The elder Tom Flynn retired.

1984 - Tom Flynn Jr was joined by his son, Tom Flynn III, and added Porsche / Audi to the Flynn Family.

1989 - Together they added the BMW franchise.

1992 - We returned the Porsche franchise.

1994 - We acquired the Mazda franchise.  Also in the Summer of 1994 began the first of 3 Facility expansions, as we added a 9 car showroom.

2003 - Tom Flynn III became President of the Flynn Family of Dealerships.

2004 - The Flynns decided to sell the Mazda franchise and concentrated on what they know best: German Automobiles.

2005 - We embarked on yet another expansion and constructed a 10 car BMW Exclusive Showroom.

2010 - Looking toward the future the Flynns expanded yet again, constructing a 5,000 sq ft. "State of the Art" Reconditioning and Collision Center and expanded their Service facility adding 4 more Bays.


For 52 years and three generations of Tom Flynn's we've grown from a tiny 3 bay, one car showroom to a magnificent 20 bay, 19 car showroom modern facility.  A lot has changed over the last 52 years in The Berkshires, but one thing has always stayed the same, the Flynn's Commitment to Excellence.